Biden Tells States To Use COVID-19 Relief Funds To Hire Cops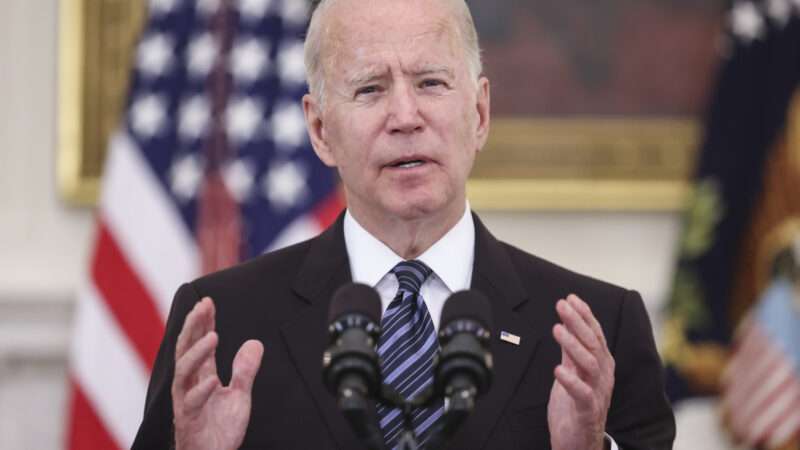 Once a crime warrior, always a crime warrior. President Joe Biden yesterday urged state officials to throw more money at U.S. cops. But with the drug war falling (at least somewhat) out of fashion, Biden has had to get creative about how to ramp up federal funds for local policing. Will using a perennial progressive target—guns—and money meant to combat COVID-19 do the trick?
The administration apparently hopes so. At a Wednesday press conference, Biden told state and local leaders that they could use money provided to them as part of the pandemic relief package to fund more police officers and hours.
"We're now providing more guidance on how [state and local governments] can use the $350 billion nationally that the American Rescue Plan has available to help reduce crime and address the root causes," said Biden. "For example, cities experiencing an increase in gun violence were able to use the American Rescue Plan dollars to hire police officers needed for community policing and to pay their overtime."
Biden has always been a Tough on Crime guy, spending much of the '80s and '90s spearheading congressional efforts to create new federal crimes, ramp up punishments for drug offenses, provide more resources to police and prosecutors, and generally find new ways to spend more federal funds on putting people behind bars. This is what made conservative fearmongering during the 2020 election about Biden being some radical "defund the police" type especially laughable.
To combat gun violence and violent crime, we're going to:

– Stem the flow of firearms
– Advance community policing
– Invest in evidence-based community violence interventions
– Expand summer programming and employment opportunities

— President Biden (@POTUS) June 23, 2021
Throughout his career, Biden has specialized in using social justice and progressive causes to push conservative and reactionary law enforcement responses. He's frequently capitalized on moral panics to procure more funding for police and prosecutors. Still, some on the left inexplicably hoped he might actually be a changed man, caught up in the zeitgeist around criminal justice reform, ending mass incarceration, and giving police fewer opportunities to commit abuse.
That Biden wants to take some of the massive spending approved as pandemic relief and funnel it to cops only shows how sadly mistaken they were.
The American Rescue Plan "means more police officers, more nurses, more counselors, more social workers, more community violence interrupters to help resolve issues before they escalate into crimes," said Biden at yesterday's press conference, during which he also announced new plans to police guns.
Biden's plan to "combat the epidemic of gun violence" follows the playbook of the War on Drugs and if you think this is going to actually meaningfully reduce gun violence instead of serve as a means to funnel more people into the prison industrial complex you're a fucking fool.

— Your Friendly Butch Anarchist (@butchanarchy) June 23, 2021
---
FREE MINDS
First Amendment rights prevail in cheerleader Snapchat rant case. In Mahanoy Area School District v. B.L., decided yesterday by the U.S. Supreme Court, justices held 8–1 that the school
Article from Latest – Reason.com
Comments
comments