Judge Rejects New York City's Ban on Cops Compressing Suspects' Diaphragms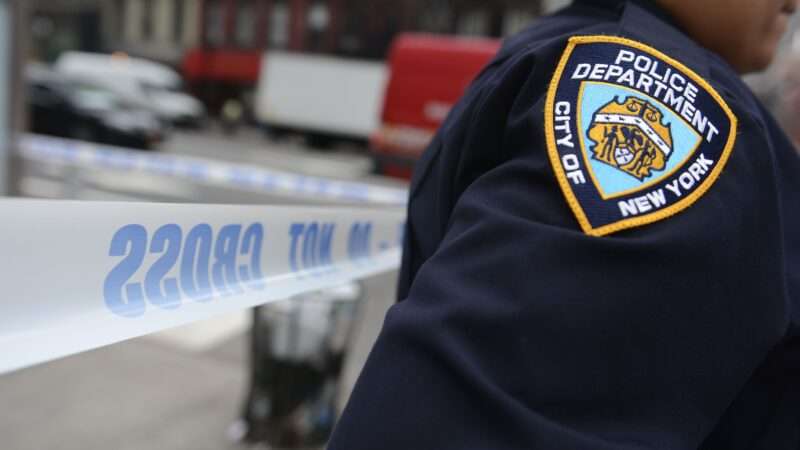 Recent years have seen a string of high-profile deaths brought on by police officers restricting people's breathing during arrest, leading some cities to reconsider cops' use of chokeholds and similar tactics. For instance, last summer, in the wake of George Floyd's death, New York City passed a law banning police from "restraining an individual in a manner that restricts the flow of air or blood by compressing the windpipe or the carotid arteries on each side of the neck, or sitting, kneeling, or standing on the chest or back in a manner that compresses the diaphragm."
But New York City cops and their unions objected to the law, which made such actions a misdemeanor crime. Police unions sued over the law last August, saying it was too vague and had a "chilling effect" on their conduct (um, isn't that the point?).
Now, a state judge in New York has partially taken their side.
In a Tuesday ruling, Judge Laurence Love struck down the portion of the law related to compressing a suspects' diaphragm, calling it "unconstitutionally vague." The diaphragm language "cannot be adequately defined as written," he opined.
Love's ruling did not affect the first portion of the law, related to restricting compressing the windpipe or the carotid arteries.
Notably, the NYPD has banned the use of chokeholds by police since 1993. But advocates of the new law argued that the NYPD's internal ban on chokeholds was ineffective, as they were still widely used (and abused) by city cops with little consequence—a practice tragically showcased by Officer Daniel Pantaleo's 2014 killing of Eric Garner.
Both the New York City law and a state law passed last summer (Senate Bill S6670B) attempt to actually set consequences for cops who don't follow that policy. The state law made it a crime for police officers or peace officers to obstruct breathing or blood circulation, or use a chokehold or similar restraint, that results in serious physical injury or death.
---
FREE MINDS
Trans girl sports ban vetoed. Louisiana Gov. John Bel Edwards, a Democrat, vetoed a ban on transgender girls participating in women's sports teams. Edwards called the law—which cleared the state's Senate 29–6 and the House 78–19—a "solution in search of a problem that does not exist in Louisiana." The measure could still become law, however, as the margins of victory are wide enough to override Edwards' veto. But "the Legislature has never in its history called itself back to Baton Rouge for a special veto override session," notes The Advocate.
---
FREE MARKETS
Connecticut just became the 19th state to legalize recreational marijuana. Gov. Ned Lamont, a Democrat, signed the new legislation into law on Tuesday. "People age 21 and older will be allowed to possess and consume marijuana beginning on July 1 under the new law, which also lays the groundwork for a new cannabis industry in the state and attempts to address racial inequitie
Article from Latest – Reason.com
Comments
comments