Tim Wu, Biden's New Tech Guru, Is Deeply Wrong About What Makes the Internet Great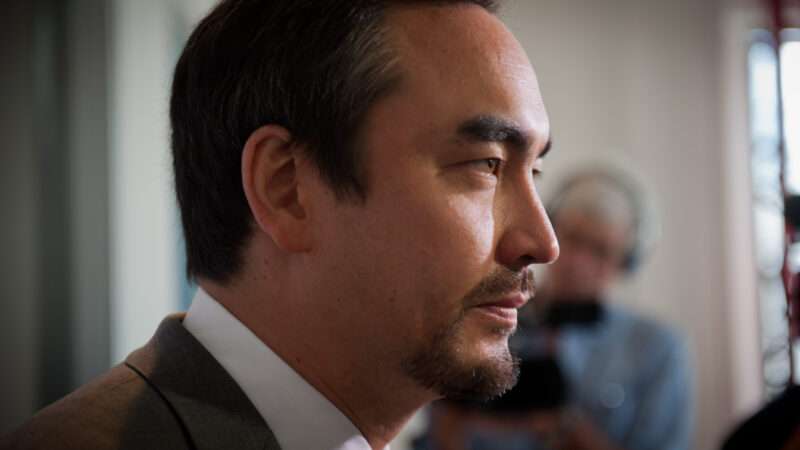 Once upon a very different internet era, law professor Tim Wu rose to intellectual prominence warning of the doom to come without "net neutrality," a term he coined. Throughout the '00s and into the late Obama years, Wu cautioned that without rules requiring internet service providers to treat all traffic and content equally, the internet as we had come to know it would cease to exist. Big corporations would create a digital fast lane for rich users and content providers, while average people would suffer through slow service and throttled access.
Without "a more frequent kick in the pants" from the government, these companies could subvert democracy, Wu hypothesized. "If a few companies have the power to control who and what gets heard, they can suppress or amplify news and wield a private control over democracy of the kind that terrified Thomas Jefferson," Wu—who would go on to be an adviser to President Barack Obama's Federal Trade Commission—wrote in 2008. Meanwhile, net neutrality rules would "preserve the open nature of the Internet—and keep it safe for unapproved speech and surprising innovations like Wikipedia and YouTube."
Without net neutrality rules, "we face the prospect of pricing wars pitting all against all, in the Hobbesian sense," Wu wrote in January 2014. "We take it for granted that bloggers, start-ups, or nonprofits on an open Internet reach their audiences roughly the same way as everyone else," he wrote later that year, after a federal court nixed the government's early attempt at such rules. "Now they won't. They'll be behind in the queue, watching as companies that can pay tolls to the cable companies speed ahead."
Early pleas for the Federal Communications Commission (FCC) to impose net neutrality rules were rejected. (The case for such rules was "unconvincing and speculative," said FCC Chairman Michael K. Powell in a 2004 speech. "Government regulation of the terms and conditions of private contracts is the most fundamental intrusion on free markets and potentially destructive.") And a federal court blocked the agency's fledgling attempt at enforcing net neutrality principles against Comcast. The FCC did pass "open internet" rules in late 2010, but these mainly applied to fixed broadband (not wireless) internet service providers, they still left a lot up to discretion, and they were mostly vacated in a January 2014 court ruling.
The closest the United States came to the sort of robust net neutrality policy Wu advocated was in June 2015, when the FCC classified high-speed internet as a telecommunications service, not an information service, and forbade internet service providers from blocking legal content on their networks, from slowing down certain applications/sites/services, or from charging extra for faster service. Less than two years later, under a new administration, the agency proposed rolling back that rule, which was officially repealed in 2018. Throughout all of this, Congress also considered—but failed to pass—a number of net neutrality measures.
Meanwhile, the internet continued humming right along. Wu's dystopian vision never panned out. In the years since net neutrality rules were undone, there has been no Hobbesian pricing war, no consumer content squeeze. If anything, smaller organizations—bloggers, start-ups, nonprofits—have more tools than ever before through which to reach people digitally and to monetize this outreach.
In many professional arenas, such a swing and miss would have consequences. At the very least, it might make people think twice before trusting your sky-is-falling predictions again. In Wu's case, it landed him an advisory role in the Biden administration.
In March, President Joe Biden appointed Wu to the White House's National Economic Council to work on technology and competition policy. Now he's predicting a new kind of online doom, and he's pushing for a bevy of new rules and regulations to prevent it. Wu has already previewed his heavy-handed approach, promising to crack down on large corporate mergers and to push for aggressive antitrust oversight. He has even suggested that, in his previous role under Obama, he might have been too lenient on tech companies—and that he now expects to take a harder line.
Fans of free speech and free markets should be wary. Wu's apocalyptic fears have never panned out. But from his new White House perch, he could push policies that really would make the internet more closed, more controlled, more centralized, less dynamic, and less free.
The Sky Is Falling (Again and Again and Again)
How did Wu parlay a decade-plus of misplaced doomsaying into such a position? It can't hurt that his rhetoric, then and now, aligns neatly with the Democratic Party's political agenda.
Now in his late forties, Wu has been a longtime critic of big businesses. And though Wu mainly couches his fearmongering now not in the language of net neutrality but antitrust and monopoly, he's still stuck on the idea that big companies are ruining the internet and the federal government must do more.
His scapegoats have evolved. Back in the mid-aughts, Wu worried that companies like AT&T would throttle the likes of Google and Apple, writing in 2007 that he hoped "industry power will begin to move away from the carrier oligopoly and toward Apple and other Silicon Valley firms." Once those Silicon Valley firms started doing exceedingly well, Wu turned on them. Google and Apple—along with Amazon and Facebook—are now among Wu's targets.
What hasn't changed is Wu's diagnosis that without intense regulation, the internet will be ruined for average Americans. A disciple of Lawrence Lessig's "gloomy gospel of impending digital doom," Wu's staple has been "frightful tales and lugubrious warnings" that "someone or something—quite often, the State" must intervene, as Mercatus Center researcher and Technology Liberation Front blogger Adam Thierer characterized it back in 2010.
Against Lower Prices   

Another central tenet of Wu's economic philosophy—one initially brandished during his net neutrality crusade and now applied to his antitrust antics—is that policy makers shouldn't care about keeping consumer prices low. Corporate competition is itself the goal. If that costs consumers more, so be it.
Since the
Article from Latest – Reason.com
Comments
comments