Biden Administration Endorses Legislation to End Crack Cocaine Sentencing Disparity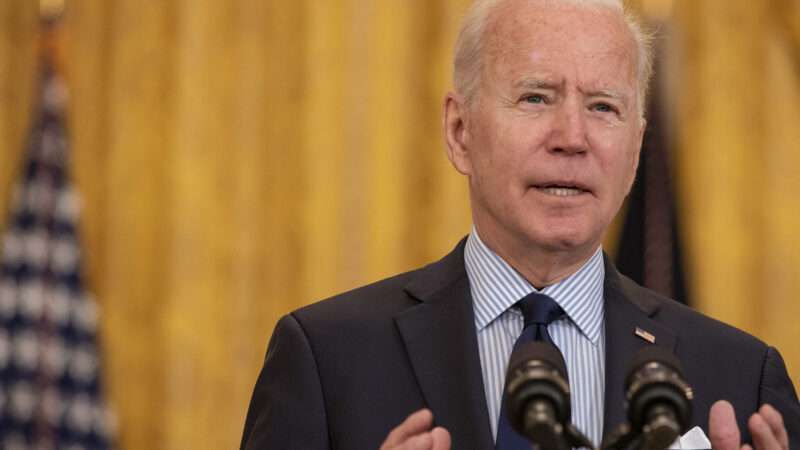 The Biden administration endorsed legislation today that would finally end the federal sentencing disparity between crack and powder cocaine offenses, and close the book on one of the most destructive parts of Joe Biden's legacy as a senator.
Then-Sen. Biden (D–Del.) co-sponsored the Anti-Drug Abuse Act of 1986. That law imposed mandatory minimum sentences for drug offenders and created a 100-to-1 sentencing disparity between crack and powder cocaine. In later years, under pressure from activists and criminal justice advocates who cited the wide racial disparities and massive sentences that resulted, Biden reversed his stance. Part of his 2020 campaign platform included ending the disparity.
Regina LaBelle, acting director of the White House Office of National Drug Control Policy, said in prepared remarks at a Senate Judiciary Committee hearing today that the Biden administration "strongly supports" eliminating the sentencing disparity between crack and powder cocaine.
"The current disparity is not based on evidence yet has caused significant harm for decades, particularly to individuals, families, and communities of color," LaBelle said. "The continuation of this sentencing disparity is a significant injustice in our legal system, and it is past time for it to end."
The Senate Judiciary Committee was considering the EQUAL Act, a bill sponsored by Senate Majority Whip Dick Durbin (D–Ill.), Sen. Cory Booker (D–N.J.), and Sen. Rob Portman (R–Ohio) that would erase the sentencing disparity.
The Anti-Drug Abuse Act was one of the most disastrous laws passed in the 1980s by lawmakers posturing as tough-on-crime. It imposed substantially heavier penalties against federal crack offenders, who were predominantly black, than powder cocaine offenders, despite there being little to no pharmacological difference between the two substa
Article from Latest – Reason.com
Comments
comments