Ranked Choice Voting Gets Biggest Test Yet in New York City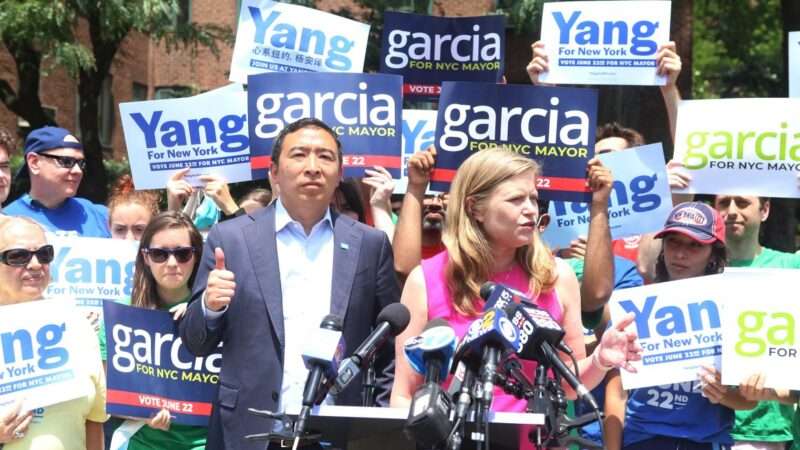 New York City's raucous mayoral primary today will be the country's most prominent test of ranked choice voting. How it all works out may make the case for wider adoption.
Democratic Party voters have 13 mayoral candidates on their ballots. They don't have to select just one to face off against Republican and third-party candidates in the November general election; they can choose and rank up to five candidates in order of preference.
With ranked choice voting, it's not enough for the top candidate to get a plurality of the votes. He or she must have a majority in order to be declared a winner. When the votes are first tallied, if no candidate has crossed the 50 percent threshold, a winner is not declared. Instead, the candidate with the least number of votes is eliminated. Then the votes are tallied again. For each voter who ranked the eliminated candidate as their top choice, their second choice is now counted as their vote. If that's still not enough for a single candidate to pass 50 percent, the elimination and retabulation continues. When one candidate is able to lay claim to at least 50 percent of the votes, that candidate is named the winner.
With 13 candidates splitting up all the votes, this can get super complicated, and it may be weeks before the actual winner is determined. As it is, the city's Board of Elections will not begin tabulating the ranked choices until next week, so unless one candidate gets 50 percent of the vote tonight (which seems extremely unlikely), New Yorkers are in for a wait.
The politics of these elections change a bit when ranked choice voting is used, encouraging alliances between candidates in the hopes that voters will rank them first and second, increasing b
Article from Latest – Reason.com
Comments
comments