Against National Unity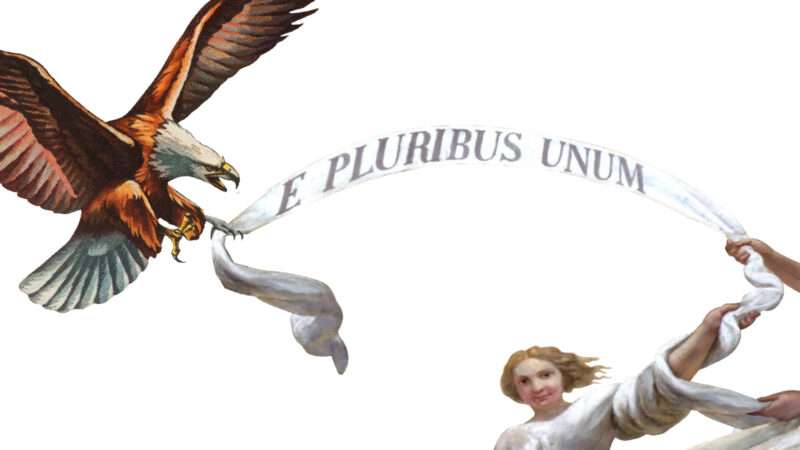 The traditional motto of the United States is e pluribus unum—from many, one. Suggested by the French designer Pierre Eugène du Simitière, the phrase is apparently derived from the Roman statesman and philosopher Cicero. In De Officiis, his treatise on ethics, Cicero proposes that "when men have similar pursuits and inclinations, it comes about that each one is as much delighted with the other as he is with himself: the result is what Pythagoras wanted in friendship, that several be united into one."
Americans frequently recur to the ideal of unity on ceremonial occasions. In his inaugural address, President Joe Biden used the word eight times. "With unity," he promised, "we can do great things." Biden acknowledged the legal disputes and violent interference that preceded his inauguration. But he affirmed that "we come together as one nation, under God, indivisible, to carry out the peaceful transfer of power as we have for more than two centuries."
Ironically, Biden's rhetoric of unity echoed the words of his predecessor on the same occasion. In 2017, newly elected President Donald Trump insisted that "We are one nation….We share one heart, one home, and one glorious destiny." In his address, Biden claimed "History, faith, and reason show the way, the way of unity." Trump emphasized religious motives, noting that the Bible attests "How good and pleasant it is when God's people live together in unity."
Trump did not deliver on that biblical promise. Elected with just 46 percent of the popular vote, he became unique among modern presidents in failing to sustain an average approval rating greater than 50 percent at any time in his presidency.
Although Biden cultivates an avuncular persona, won a majority of the popular vote, and is just a few months into his term, it's unlikely he will do much better. Already, familiar tensions have reemerged. Indeed, Biden seems to face the same inverse reaction to some of his efforts as Trump did.
Pundits tend to blame mistakes of rhetoric or legislative strategy for politicians' failure to achieve e pluribus unum. The truth is, neither cause is primarily to blame. Americans are not divided because politicians failed to pronounce the correct phrases or promoted one bill rather than another. We are divided because we genuinely disagree—not only on matters of public policy but also on basic questions of justice and identity.
At a glance, this should not be very surpr
Article from Latest – Reason.com
Comments
comments