The Biden Administration's Model 'Red Flag' Law Belies the Justice Department's Avowed Commitment to Due Process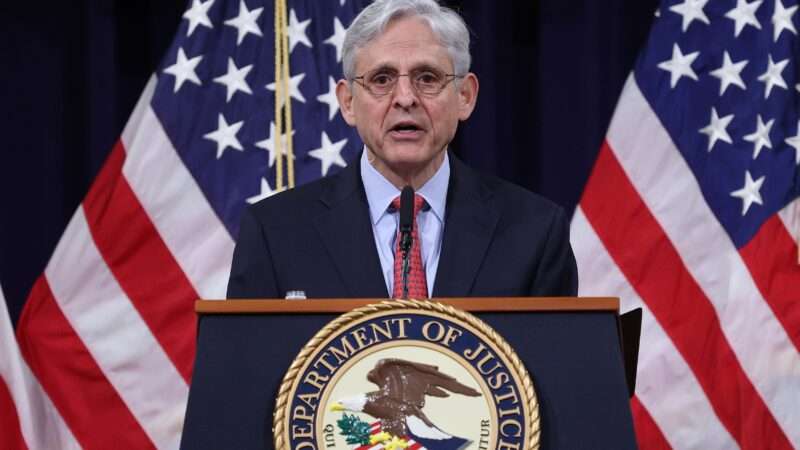 As President Joe Biden promised in April, the U.S. Department of Justice (DOJ) recently published model "red flag" legislation that authorizes court orders prohibiting gun possession by people deemed a threat to themselves or others. The proposed language describes a process that is rigged against respondents from beginning to end, allowing courts to strip people of their Second Amendment rights based on little more than bare allegations by potentially mistaken, biased, or malicious petitioners.
Red flag laws, which 19 states and the District of Columbia have enacted, are commonly portrayed as a way to stop mass shootings. The Biden administration has described such legislation as a response to "the gun violence public health epidemic." Attorney General Merrick Garland likewise declares that "the Justice Department is determined to take concrete steps to reduce the tragic toll of gun violence," and he says the model red flag legislation is one of those steps.
This gloss is more than a little misleading. A 2020 RAND Corporation review found no scientifically sound studies indicating that red flag laws prevent either mass shootings or violent crime generally. It found "inconclusive evidence" that they prevent suicides, which the available data indicate is the justification for a large majority of gun confiscation orders.
The Justice Department is cagey on this point, saying red flag laws authorize courts to "temporarily bar people in crisis from accessing firearms." By "allowing  family members or law enforcement to intervene…before warning signs turn into tragedy," the DOJ avers, such laws "can save lives," which it claims "research has shown." It describes red flag laws as "an evidence-based approach to the problem" without specifying exactly what "the problem" is. But since the only real evidence pertains to suicide rather than homicide, it should be clear that politicians who support these laws are doing a bait and switch: They cite mass shootings to justify authorizing court orders that are mainly used to stop people from killing themselves.
The Justice Department pays lip service to "due process" and "protecting the rights of law-abiding Americans," and it acknowledges the possibility of "false or harassing applications" for gun confiscation orders. But its model legislation contradicts those caveats. Here is how the proposal addresses some of the major issues raised by red flag laws.
Who can apply for orders?
The DOJ thinks requiring that petitions come from law enforcement agencies, a rule aimed at filtering out unsubstantiated complaints, unnecessarily limits the lifesaving potential of red flag laws. It recommends that authorized petitioners also include family members, defined as parents, spouses, children, or siblings of the respondent; household members, which would include housemates and cohabiting girlfriends or boyfriends; "dating or intimate partner[s]"; health care providers; and officials at schools the respondent has attended within the preceding "six months," "one year," "two years," or "other appropriate time period specified by state law," plus "any other appropriate persons specified by state law." Depending on the state, that last category may include additional relatives, employers, co-workers, former housemates, ex-spouses, and former dating partners.
The rationale for such an expansive list of potential petitioners is that it empowers people who know the respondent to obtain a red flag order quickly, without having to satisfy police that their concerns are justified. But eliminating that filter while allowing petitions by a wide range of possibly hostile or sincerely mistaken relatives, intimates, and acquaintances magnifies the risk that people will lose constitutional rights even though they pose no real threat to themselves or others.
In California, which defines petitioners broa
Article from Latest – Reason.com
Comments
comments