Colorado Court Slaps Baker With Fine for Refusing To Make Gender Transition Cake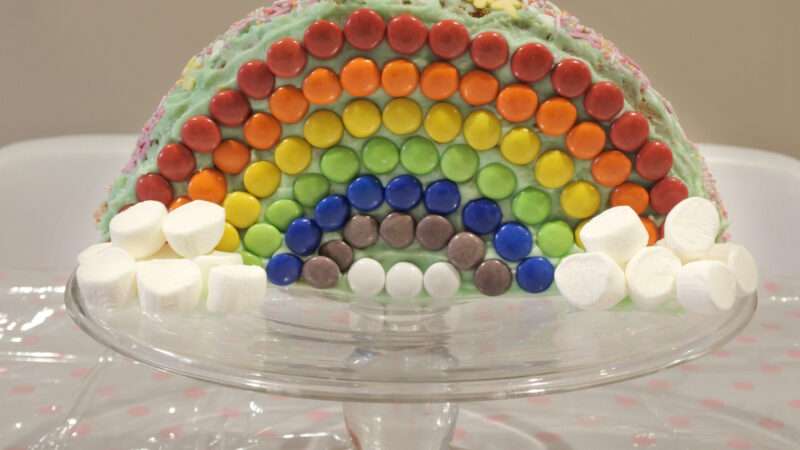 Another cake controversy out of Colorado. The baker at the center of a 2018 Supreme Court case concerning religious freedom, same-sex marriage, and civil rights is back in court over his refusal to serve up another cake. This time, the controversial cake was requested by a transgender woman in celebration of her gender transitioning.
Once again, Masterpiece Cakeshop's Jack Phillips said making the requested cake would go against his morals. And, once again, the state isn't having it…potentially setting up another prolonged showdown pitting religious liberty and freedom of expression against the application of statutes aimed at protecting LGBTQ rights.
In the last case—Masterpiece Cakeshop Ltd. v. Colorado Civil Rights Commission—the Supreme Court ruled 7–2 that Colorado was wrong to fine Phillips for refusing to make a wedding cake for a gay couple. The couple argued that this violated anti-discrimination law. Phillips said it didn't, since he would sell regular baked goods to gay people with no problem—just not a wedding cake, as same-sex marriage was against his religious beliefs. Phillips argued that compelling him to participate in a gay couple's marriage ceremony by baking a cake for the occasion violated his freedom of speech and religious liberty.
While the Court's ruling was a win for Phillips, "the approach the court took guarantees that this debate is far from over," as Reason's Scott Shackford noted back then. "The court did not rule that cake-baking is a protected form of free expression. Instead it said the Colorado Civil Rights Commission (CCRC) showed open hostility to the baker's attempt to assert his religious beliefs as a reason to reject the couple's request, and that the state thus did not neutrally enforce its antidiscrimination law."
This left room for similar litigation going forward—and, indeed, an Oregon case involving similar circumstances came before the Supreme Court the following year. In that case, however, the Court simply ordered Oregon to take another look.
So far, Phillips' latest legal battle has only made it to state court. But it has all the fixings to go bigger.
Last week, Denver District Court Judge A. Bruce Jones ruled that Phillips was violating Colorado anti-discrimination law by refusing to make Autumn Scardina a special cake—blue on the outside and pink on the inside—to commemorate both her birthday and her gender transition. Jones ordered Phillips to pay a $500 fine.
Scardina had commissioned the cake years ago, "on the same day in 2017 that the U.S. Supreme Court announced it would hear Phillips' appeal in the wedding cake case," notes The Washington Post. "Scardina said she wanted to 'challenge the veracity' of Phillips statements that he would serve LGBT customers, but her attempt to get a cake was not a 'set up' intended to file a lawsuit, Jones said."
That last bit rings a little hollow, since Scardina didn't simply order any old cake but a cake celebrating a gender transition, making sure the reason for the cake was known to Phillips. And his position all along has been that he wouldn't deny service of non-message-laden baked goods to LGBTQ customers but that he also wouldn't engage in the expressive process of making special pastries specifically to celebrate ideas or institutions he feels are an affront to his religious values.
There are surely lots of places where Scardina could get her desired cake made without having to hide anything. But clearly, this is about more than just the baking of a single cake, with both sides convinced they are sticking up for something bigger.
"Religious liberty or freedom from discrimination: Advoc
Article from Latest – Reason.com
Comments
comments