Biden's Nominee to Head the ATF, Who Wants Congress to Ban 'Assault Weapons,' Says He Can't Define Them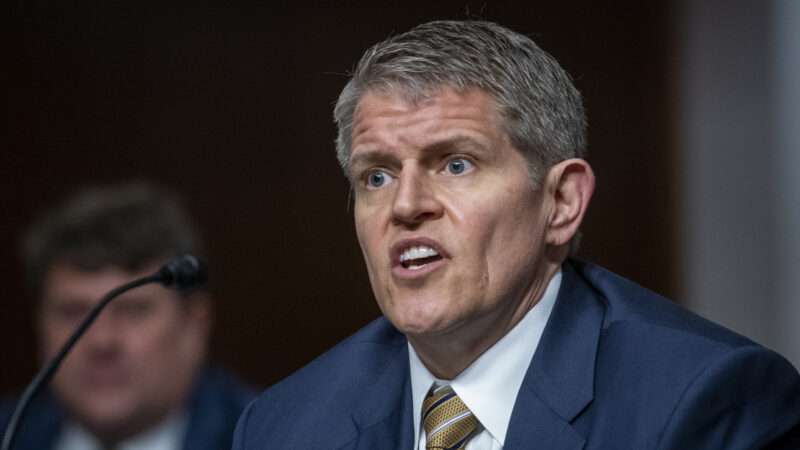 President Joe Biden wants Congress to ban "assault weapons," and so does David Chipman, his nominee to run the Bureau of Alcohol, Tobacco, Firearms, and Explosives (ATF). But neither Biden nor Chipman will say what that term means, and their obfuscation makes it impossible to take their proposal seriously.
Chipman, who worked as an ATF special agent for 25 years and later served as a senior policy adviser to the gun control group Giffords, was repeatedly asked to define assault weapon during his Senate confirmation hearing last month, and he repeatedly dodged the question. Given Chipman's long experience as both an ATF agent and a gun control advocate, his evasiveness cannot plausibly be ascribed to a lack of preparation or knowledge. Instead it seems to be an intentional strategy designed to avoid exposing the illogic of targeting firearms based on their "military-style" appearance.
"I have a simple question for you," Sen. Tom Cotton (R–Ark.) said. "What is an assault weapon?"
Chipman's answer not only was not simple; it was not really an answer at all. "An assault weapon would be, in the context of the question you asked, whatever Congress defines it as," he told Cotton. That much is true: The "assault weapon" category was invented by politicians, who define it however they want. But "in the context of the question" that Cotton asked—the scope of the federal ban that Biden and Chipman support—that observation clarified nothing. The senator wanted to know which firearms Chipman thinks Congress should ban, and the nominee replied that Congress would have to make that decision.
"You're asking us to ban assault weapons," Cotton noted. "We have to write legislation. Can you tell me what is an assault weapon? How would you define it if you were the head of the ATF? How have you defined it over the last several years [in] your role as a gun control advocate?"
Chipman tried a different dodge, referring to an ATF requirement that federally licensed gun dealers near the southern border report multiple sales of certain rifles. "That program," he said, "has defined an assault rifle as any semi-automatic rifle capable of accepting a detachable magazine" that holds ammunition "above the .22 caliber, which would include the .223, which is largely the AR-15 round."
That definition is much broader than the ones used in the 1994 federal "assault weapon" ban, which expired in 2004; the new, supposedly improved version backed by Sen. Dianne Feinstein (D–Calif.); and state ba
Article from Latest – Reason.com
Comments
comments