PRIME Cuts: Bill Would Slaughter Federal Regs on Small Meat Processors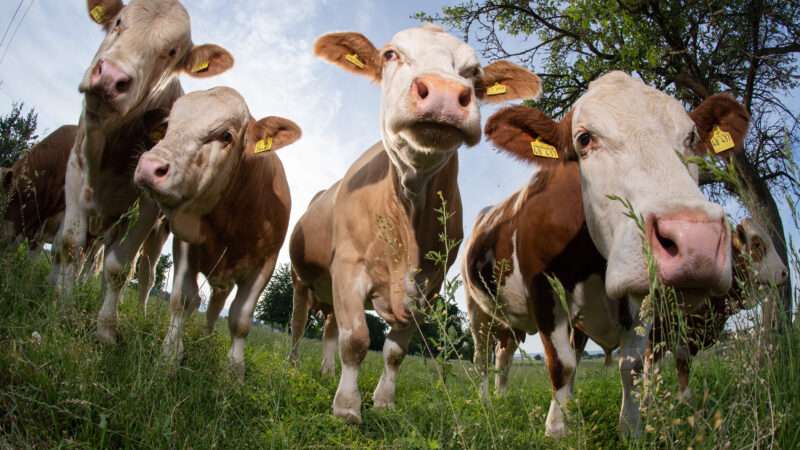 Lawmakers in the House and the Senate filed joint bipartisan bills last week reintroducing legislation that would decrease federal regulation of meat production. This would decentralize the food industry and make it easier for small local meat producers to compete with larger firms.
The Processing Revival and Intrastate Meat Exemption (PRIME) Act is sponsored by Reps. Thomas Massie (R–Ky.) and Chellie Pingree (D–Maine) in the House, and by Sens. Mike Lee (R–Utah), Angus King (I–Maine), and Rand Paul (R–Ky.) in the Senate. As currently advertised, the two bills have 39 co-sponsors in total. The majority of the co-sponsors are Republicans, but include a few Democrats in agricultural constituencies, like Reps. Jared Huffman (D–Calif.), Darren Soto (D–Fla.), and Joe Courtney (D–Conn.).
The bill would remove the requirement that all slaughterhouses be subject to U.S. Department of Agriculture (USDA) rules and inspections. Instead, it would be up to states and towns to set their own rules for slaughtering livestock. 
As Reason's Baylen Linnekin noted when the PRIME Act was first introduced in 2015, and again in 2017, large meat producers selling across state lines would still be subject to USDA regulations, but this legislation means that small local producers selling meat within their states would have significantly less red tape to wade through when trying to serve their communities.
USDA-inspected slaughterhouses are few and far between, which means that local and corporate farmers alike often have to travel hundreds of miles to the nearest facility. There are only 86 "approved immediate slaughter facilities" in the United States. There are only three in the whole state of California, and none in my home state of Vermont.
This poses a huge financial burden for small farms, which have to resort to legal loopholes to get around regulations. Under current law, although it is illegal to sell meat from a non-USDA facility, it is legal for a small farm to sell you an animal—or a share of an animal—and kindly "offer" to slaughter it for you at a non-USDA slaughterhouse.
"I have a small cattle farm, and I've used both types of processin
Article from Latest – Reason.com
Comments
comments