How Flamin' Hot Cheetos Became a Cultural Sensation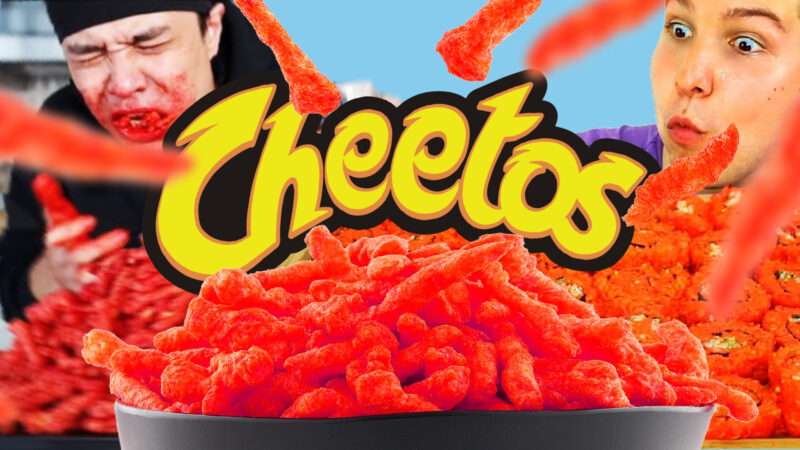 Richard Montañez, the self-proclaimed inventor of Flamin' Hot Cheetos, has a memoir out this week called Flamin' Hot: The Incredible True Story of One Man's Rise from Janitor to Top Executive. It's also being made into a movie by actress and producer Eva Longoria.
But last month, the Los Angeles Times published allegations that Montañez fabricated his role in the snack's creation.
"None of our records show that Richard was involved in any capacity in the Flamin' Hot test market," Frito-Lay said in a statement. "We have interviewed multiple personnel who were involved in the test market, and all of them indicate that Richard was not involved in any capacity in the test market."
Whether or not the Flamin' Hot Cheetos origin story is a legend, what matters most is how this fiery snack has been embraced, repurposed, and re-interpreted by legions of fans.
These puffy and pungent snacks have been featured in rap songs, YouTube challenges, TikTok cooking videos, clothing, jewelry, and a variety of food dishes with roots all over the world. Singer Katie Perry dressed up as a Flamin' Hot Cheeto for Halloween in 2014. 
This fan culture helped make Flamin' Hot Cheetos resilient to attacks by food regulators who object to artificial dyes and high-calorie cornmeal.
They're also a culinary phenomenon. "Either before school or after school you were going to get a bag of chips and the only one you were going to get was Flamin' Hot," says Tirsa Farah, co-owner and chef at Tirsa's Mexican Cafe in Los Angeles, California. Farah's menu features Flamin' Hot Cheetos in sopes, nachos, and esquites. "It's not just a flavor—it's a memory, it's an occasion. You just flash back to all the times you ate Flamin' Hot."
Bags of Flamin' Hot Cheetos appeared on American store shelves in the early '90s. They came to symbolize the poor eating habits of America's youth. T
Article from Latest – Reason.com
Comments
comments