Biden's Latest Round of Student Loan Debt Forgiveness Is an Indictment of Federal Higher Education Subsidies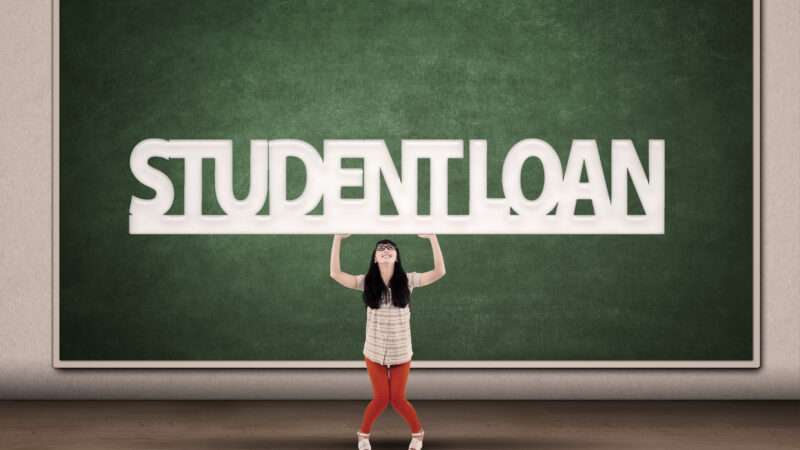 President Joe Biden announced Wednesday that the Department of Education is forgiving $500 million in Federal Direct Loan debt owed by 18,000 former students of the for-profit higher education chain ITT Technical Institute. The chain closed all 140 of its locations and fired most of its 8,000 employees in 2016, following a legal battle with various state attorneys general and the U.S. Department of Education.
"These borrowers will receive 100 percent loan discharges," according to a Department of Education press release. "This brings total loan cancellation under borrower defense by the Biden-Harris Administration to $1.5 billion for approximately 90,000 borrowers." In March, the Education Department forgave $1 billion in student loan debt held by 73,000 other borrowers who attended for-profit colleges found to have engaged in deceptive marketing practices.
This latest announcement is yet another expensive reminder that federal subsidies for higher education creates incentives for garbage people to start garbage programs for clueless borrowers who stand little chance of ever repaying their student loans.
The "borrower defense" concept says that students are able to apply for loan forgiveness of their Federal Direct Loans if the students "were misled" by the schools they attended or if their "schools engaged in other misconduct in violation of certain laws." In this case, the Education Department says its investigation "found that ITT made repeated and significant misrepresentations to students related to how much they could expect to earn and the jobs they could obtain after graduation between 2005 and the institution's closure in 2016. In reality, borrowers repeatedly stated that including ITT attendance on resumes made it harder for them to find employment, and their job prospects were not improved by attending ITT."
In the last administration, the federal government had much stricter rules about who could benefit from the borrower defense rule and how much forgiveness they could receive. A major sticking point with loan forgiveness advocates was then–Education Secretary Betsy DeVos' use of a formula that granted borrower defense applicants only partial forgiveness of Federal Direct Loans. Education Secretary Miguel Cardona has tossed that formula and replaced it with 100 percent forgiveness, which will be retroactively available to anyone who previously qualified for partial forgiveness.
Article from Latest – Reason.com
Comments
comments