Colombia's Anti-Imperialists Import Cancel Culture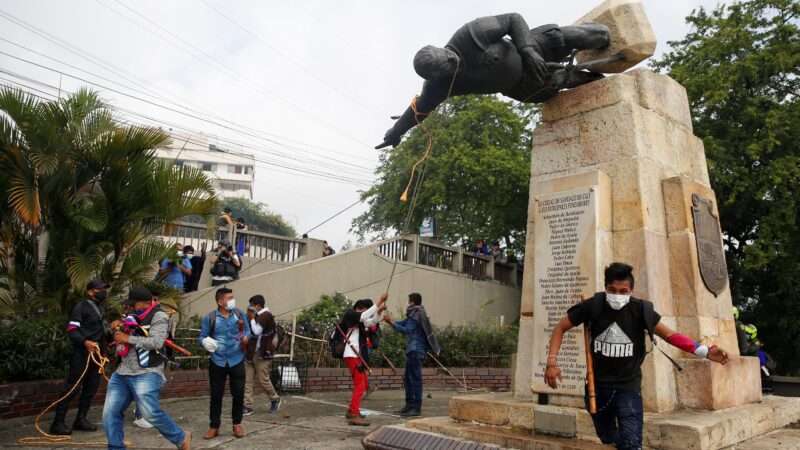 As the January 6 riot unfolded, journalist Jake Tapper told a CNN colleague reporting from Washington, D.C., that he felt as if he was "talking to a correspondent in Bogotá." Now that violent protests once again plague Bogotá and the rest of Colombia, however, the odd thing is that they closely resemble last summer's violent protests in Washington, D.C.
While Colombia certainly has a long history of riots, these seldom featured the toppling of statues. It was only after the 2020 twilight of the statued idols in America's capital and throughout the United States that a group of Guambianos, or Misak, an indigenous people from the southwestern department of Cauca, decided to topple the statue honoring Gonzalo Jiménez de Quesada, the Spaniard who, allied with certain indigenous tribes, conquered much of central Colombia in the 16th century. The Guambianos tried to "cancel" Jiménez de Quesada last month in Bogotá's colonial center, only days after they had struck in the city of Cali, where they ousted the statue of Sebastián de Belalcázar, another conquistador.
Besides importing cancel culture from the United States, the professed anti-imperialists leading the current protests in Colombia have used roadblocks along major highways to prevent goods, medicine, fuel, and even ambulances from reaching large urban centers. In Cali, the third-largest city in Colombia with 2.2 million inhabitants, the local press reported shortages of rice, meat, chicken, eggs, vegetables, and gasoline on May 5, after several days of blockades and complacency by the local authorities. On May 9, when entrapped residents attempted to liberate the roads themselves, they exchanged fire with the indigenous groups carrying out the blockades. The latter even invaded gated communities and launched projectiles at a security drone as it filmed their onslaught.
The systematic use of roadblocks is not new; saboteurs have perfected this hostile tactic against civil society after several decades of constant practice. In Popayán, a city of 318,000 inhabitants in Cauca some 85 miles south of Cali, tradesmen are used to storing additional supplies of food and water to last about 20 days each year. As journalist Fernán Martínez reports, this is due to annual blockades from indigenous groups, which have besieged the city since the 1980s and left its inhabitants regularly without supplies.
The goal is always to extract public spending pledges or grants of additional land from national authorities; indigenous reservations or resguardos, where the law dictates that all property be held collectively, are among the largest land holdings in the country, comprising 31 million hectares out of a total of 114 million according to a 2011 study by the Colombian Institute of Rural Development. As Martínez notes, the government usually sends its inexperienced, city-dwelling technocrats to capitulate in negotiations with wily indigenous leaders, who are "true Ph.D.s in the art of the blockade."
Other professional rent-seekers are now using the same methods at a national level. The country's largest labor unions—comprised of a minority of mostly public sector workers—kick-started the current chaos when they called a national strike on April 28 against a proposed tax reform. They claimed it was an assault on the middle class because it broadened the income tax base, which now consists of a mere 4 percent of working individuals.
The government's tax reform, however, was a quasi-socialist measure that sought to raise the existing wealth tax from 1 to 2 percent, place a 10 percent surcharge on moderately high salaries, and create what one report called "a permanent, unconditional subsidy for 40 percent of the population, a version of the basic income scheme that the left has promoted for years."
Since a majority in Congress
Article from Latest – Reason.com
Comments
comments