Retired Engineer Offers Free Expert Testimony for Flood Victims. Licensing Officials Threaten Him With Criminal Charges.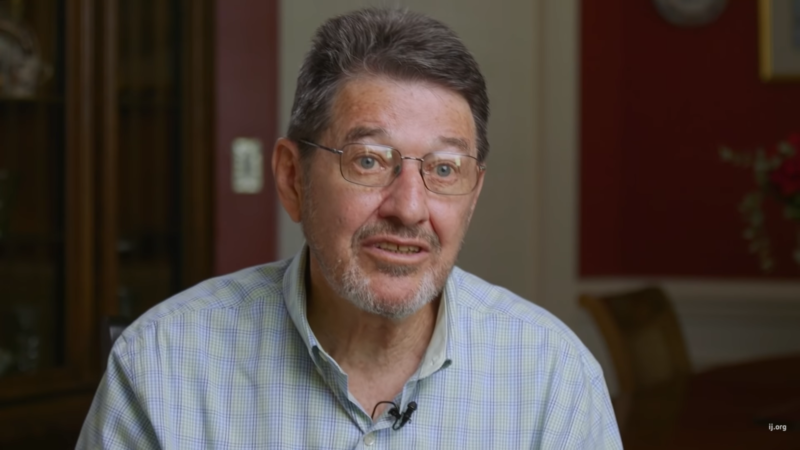 Wayne Nutt is a retired engineer who worked for decades at DuPont's chemical plant in Cape Fear, North Carolina. Since his retirement, he's frequently lent his expertise to local neighborhood groups by testifying in public meetings about everything from the storm drainage design of new developments to traffic safety plans.
That civic engagement has now made Nutt the target of the North Carolina Board of Examiners for Surveyors and Engineers, which has threatened him with potential criminal charges for testifying about engineering matters.
The board argues Nutt's pro bono testimony in a recent legal case constitutes the unlicensed practice of engineering, a misdemeanor in North Carolina that can come with the maximum penalties of a $1,000 fine and 60 days in jail. Nutt is now suing the board in federal court, arguing that the First Amendment guarantees his right to talk about engineering.
"It's intimidating and intentionally so," Nutt tells Reason. The board "pretty clearly said that only a licensed professional engineer can criticize or testify against a licensed engineer's design and that's not good for the public. That's protecting engineers, that's not protecting the public."
An irony of Nutt's case is that never during his 40-year career was he required to obtain a state engineering license. By virtue of being employed by a manufacturer, he qualified for an "industrial exemption" to North Carolina's licensure laws.
That lack of a license hardly made him a less qualified engineer, however. His work for DuPont, and later DAK Americas, required him to be familiar with all sorts of chemical processes as well as federal safety regulations.
"I did a lot of research and development, and I did a lot of project work. I became very familiar with the whole process of research, development, design, and construction of a chemical plant," he says.
Nutt's retirement in 2013 meant that he no longer qualified for that "industrial exemption." He nevertheless retained both his tech
Article from Latest – Reason.com
Comments
comments