States Move To Force Sports Teams To Play the National Anthem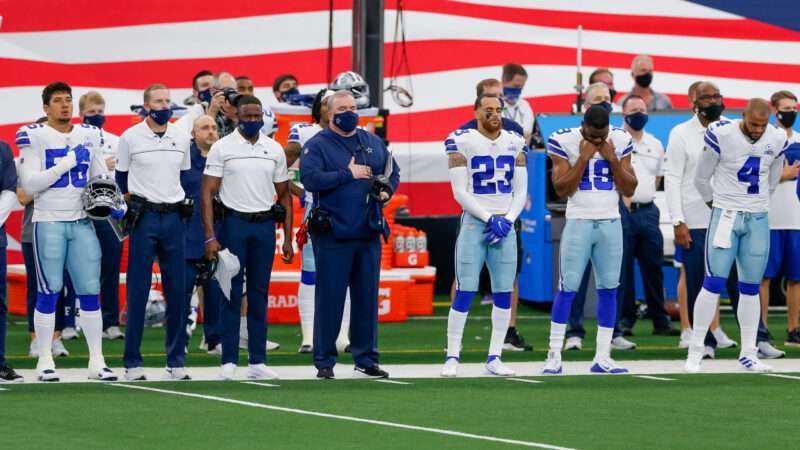 For the first time, some states are moving to turn the decades-old cultural norm of playing the national anthem before a sporting event into a legal requirement.
On Wednesday, Texas' Republican Gov. Greg Abbott signed into law Senate Bill (S.B.) 4, which will require professional sports teams to play the national anthem at the start of each preseason, regular season, and postseason game hosted in Texas. Enforcement is not criminal, which supporters say gives the law more leeway under the First Amendment. Instead, the law requires all financial agreements between pro sports teams and state and local governments to include written verification that the team will play the anthem. If a team fails to comply, it would default on the financial agreement and suffer whatever consequences the agreement spells out.
For example, the Dallas Mavericks have a lease to play in the American Airlines Center, which is owned by the city of Dallas. If the Mavericks stopped playing the anthem, they would be in default and the lease would be terminated (this would almost certainly spark legal action by the Mavericks challenging the default or the law). But the law only applies to future agreements, not existing ones, and the Mavericks have a lease through 2031. The kinds of financial agreements covered by the legislation may not just be stadium subsidies or leases, but could also involve tourism sponsorships or security arrangements with local law enforcement.
The Mavericks are the most relevant example here because they inspired the legislation. In February, it was reported that the team skipped playing the anthem before 13 preseason and regular season home games. No one really noticed because fans weren't in the arena until the last of those games. On February 10, the NBA announced it would again enforce its long-standing rule requiring the anthem, and Texas Lt. Gov. Dan Patrick, also a Republican, vowed to make legislation requiring the anthem one of his top priorities.
Only two of Texas' 31 senators voted against the bill in April (with one ab
Article from Latest – Reason.com
Comments
comments