Biden Keeps Another Trump Border Policy in Place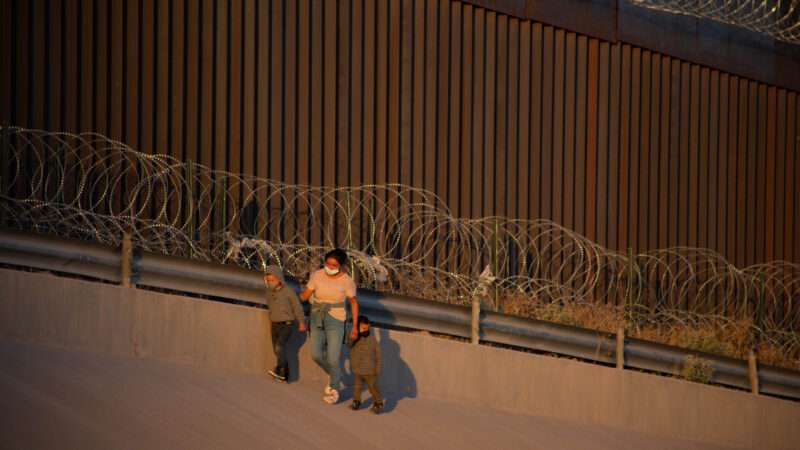 Though President Joe Biden is coming up on 150 days in office, many of the promises he made on the campaign trail have fallen flat. They came as part of his case against former President Donald Trump, which hinged in large part on crafting an immigration system that looked nothing like the one Trump presided over. But for many migrants coming to the Southwest border, the situation is little changed under Biden.
Biden has continued much of the Trump administration's approach to immigration: separating families, overfilling detention facilities, and plainly telling people to stay away. One such holdover policy is Title 42.
Invoked by Trump in March 2020, Title 42 is a section of the Public Health Service Act that grants federal health officials broad discretion to enact disease mitigation measures. The Centers for Disease Control and Prevention (CDC) used it to issue an order barring certain kinds of arrivals to the U.S. borders with Mexico and Canada while permitting other forms of international movement to continue. It allows Customs and Border Patrol (CBP) officials to expel migrants immediately upon arrival.
In practice, the measure almost exclusively applies to asylum seekers arriving at the Southwest border. Between March and September 2020, for instance, the Southwest border saw 197,043 Title 42 expulsions compared to just 328 at the Canadian border. In total, CBP has carried out over 640,000 Title 42 expulsions in one year of the order's application.
That all flies in the face of legal protections for migrants. According to David J. Bier, an immigration expert at the Cato Institute, it's a massive disruption of U.S. asylum law, "which guarantees [migrants] the right to apply at any port of entry." Presentation at a port of entry or on U.S. soil is a necessary component of the asylum-seeking process. Bier says it's imperative that the Biden administration "afford asylum seekers every opportunity to make their claims" and "reopen ports of entry to allow asylum seekers to apply there."
That's all impossible under Title 42, though. Danilo Zak, senior policy and advocacy associate for the National Immigration Forum, notes that vulnerable migrants have been harmed by Title 42's blanket approach to expulsions. "Even if an individual or family can provide evidence that they have been specifically persecuted and face a real risk of further persecution or death should they be returned to their home countries," he says, they are expelled regardless.
Zak identifies several serious legal issues at the heart of Title 42. In addition to its conflict with U.S. asylum law, the Refugee Act of 1980 also "makes it very clear that arriving migrants seeking asylum must be allowed to make their case for protection." Even so, "the Trump administration and now the Biden administration appear to believe that Title 42 allows us to disregard those asylum laws," Zak says.
They supposedly did so in the name of public health, but the medical basis for Title 42 has long been questionable. Many studies and experts have cast doubt on the efficacy of closing borders to limit the spread of COVID-19. In early March 2020, Martin Cetron, who leads the CDC's Division
Article from Latest – Reason.com
Comments
comments