Lessons of the Legal and Political Struggle for Same-Sex Marriage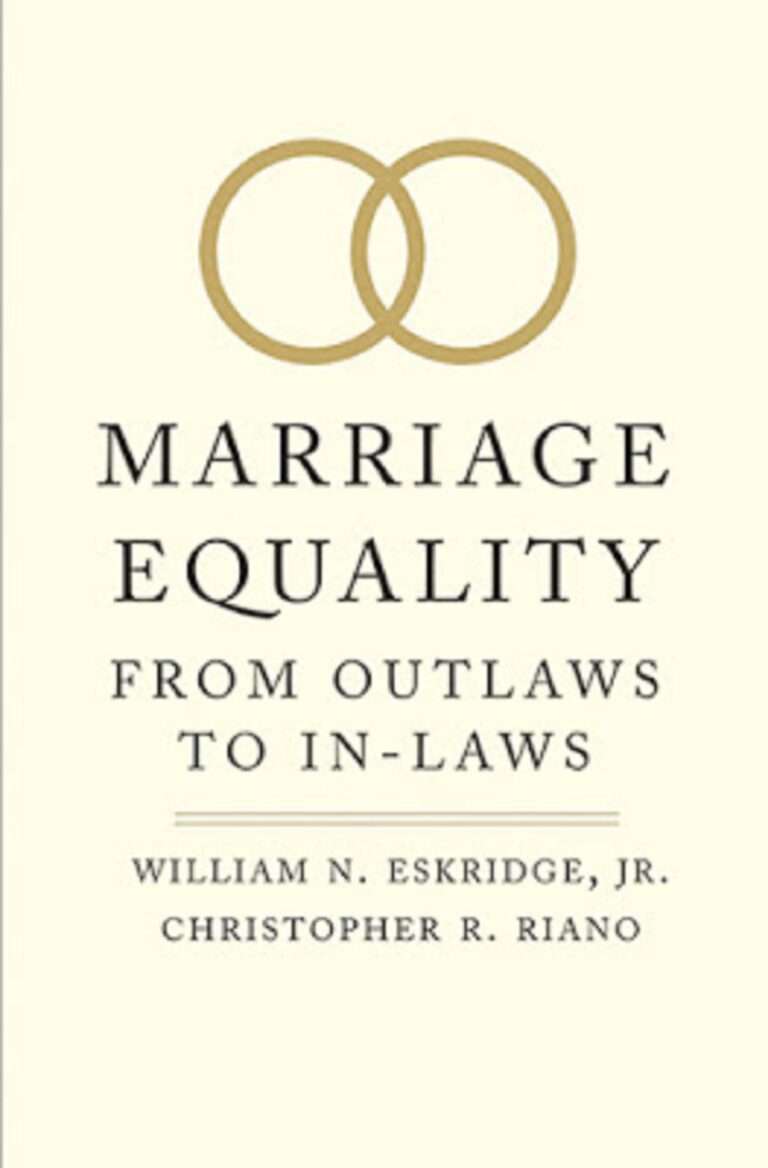 One of the very few positive aspects of the awful Covid pandemic is the opportunity to have big-name "virtual" guest-speakers in college and law school classes.  Tomorrow's guest speaker in my Constitutional Law II class will be Prof. William Eskridge, of Yale Law School, probably the nation's leading expert on the law and politics of same-sex marriage. He will be speaking about his recent book Marriage Equality: From Outlaws to In-Laws  (coauthored with Christopher Riano). It is the closest thing we have to a definitive comprehensive account of how  same-sex marriage went from being a radical fringe idea to a recognized constitutional right endorsed by a Supreme Court decision.
A brief anecdote illustrates how swift that transformation was. In 1992, when I was a college freshman, a gay classmate I will refer to as "Bob" asked me what rights I thought gays and lesbians should have. "The same rights as everyone else," I answered.
Perhaps sensing an effort at evasion, Bob pressed on and asked what exactly I meant by that. I said it meant anti-sodomy laws should be abolished (many states still had them), that gays and lesbians should be allowed to serve openly in the military (a hotly debated issue at the time, culminating in the "don't ask, don't tell" compromise of 1993), and a few other similar points.
It did not occur to me to mention same-sex marriage—an idea I probably hadn't even heard of yet. Perhaps more tellingly, it apparently didn't occur to Bob to ask about it! He seemed happy with the answer I gave, even though it omitted the issue. In 1992, even many politically aware people (including, probably, a good many gays and lesbians)  barely knew that same-sex marriage was even an option.
As Eskridge and Riano document in their book, the idea of same-sex marriage long predated that time. But few Americans were aware of it, beyond the relatively narrow circle of activists and policy experts who closely followed gay rights issues.
Within a few years, that changed. By 1995, same-sex marriage was a major focus of public debate, though majority public opinion was strongly opposed to it. I myself was happy to endorse same-sex marriage as soon as I heard of the concept (probably around 1994 or so).  But that was very much a minority view, a the time.
While a few state supreme courts ruled in favor of a right to same-sex marriage under their state constitutions, majority national opinion remained opposed up until around 2012. Even such liberal politicians as Barack Obama found it advantageous to oppose it themselves, or at least pretend to do so.
Yet public opinion ultimately shifted decisively in favor of same-sex marriage, and in Obergefell v. Hodges (2015), the Supre
Article from Latest – Reason.com
Comments
comments